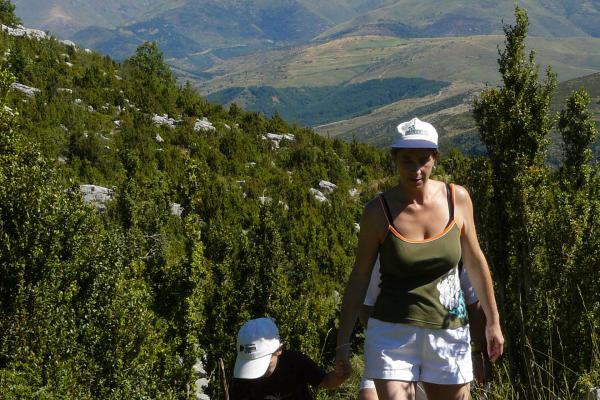 El Portús Trail
Departure: Adons
Arrival: El Portús
Distance: 3.2 km
Duration: 1h30
Incline: 329 m
Degree of difficulty: Moderate
Type of route: Linear
​Suitable for MTB: No
Best time of year: All year
* Degree of difficulty obtained by SENDIF method
Portus Route departs in Adons. The first curves show a land with very poor vegetation due to the altitude, the karstic relief and the lack of farmed lands.
After the first pass, at the fields of Cumó, a flat path evolves on a rocky substrate with amazing furrow-shaped areas as well as little pools and ponds that get filled with rainwater and are used by domesticated and wild animals in that generally dry territory.
Higher up, you will appreciate some changes of the vegetation. Isolated scotch trees, bearberries, with their typical red fruits, and small compact bunches of lavender garnish a path which gets closer to the dip that hosts the fields of Avedoga.
The final part of the path climbs through the slope of Avedoga. Here, a key element of the route will catch your attention: the presence of pine trees, natural witnesses of a former pinewood that used to cover the whole area and disappeared due to human activity. Legend says that the pinewood was destroyed because it was the place where wolves of the territory used to come and hide.
After walking between two rowans, a garden of low bushes will take you to the most inhospitable part of the mountain, where the energy of the relief expresses itself through the vertical rocky areas that leap into the Terreta. This is the habitat of jackdaws, buzzards, common vultures and, of course, bearded vultures.
In front of you, down there, you will see, at last, … the Portús: a strong twenty-by-three metre cut of the chalky mountain that hosts vegetal species such as the Pyrenean saxifrage and the Pyrenean violet and that probably brought the mountain closer to the plains during the peopling of the Ribagorça region.