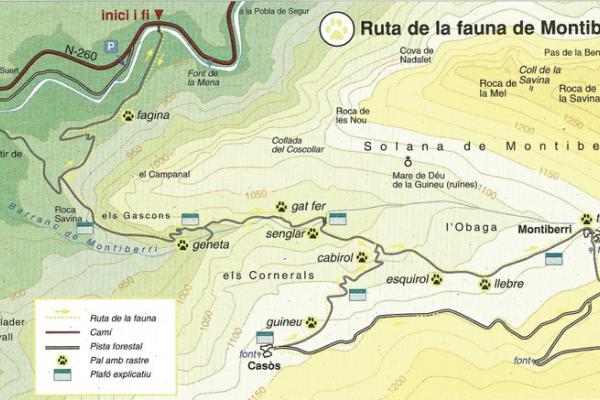 The Fauna de Montiberri Trail
Departure: Mena Spring
Arrival: Mena Spring
Distance: 6.2 km
Duration: 1h45
Incline: 330 m
Degree of difficulty: Moderate
Type of route: Circular
​Suitable for MTB: No
Best time of year: All year
* Degree of difficulty obtained by SENDIF method
The different environments of the route
The route allows you to discover the riches of local wildlife. Despite the difficulty to observe animals directly, as they escape from humans and many species are nocturnal, you are likely to encounter some signs and information panels with the footprints and faeces as well as other data related to the most representative animals of each habitat. This information will allow you to identify the real tracks you will find on the way and to know a bit more about the animals that surround you.
The itinerary starts near the ruins of Lavaix monastery, at the foot of the stream of Viu. After a slight but constant ascent, you will arrive to the valley of Montiberri through the rocky area of Roca Savina, where you will be able to appreciate some nice views of Escales dam. This stony environment gathers a series of animals that are adapted to living in the rocks. Then, the path goes up Montiberri canyon through the sunny part that hosts an oak grove. This is the perfect habitat for wild cats and genets you will probably see some footprints of.
A bit higher, the path gets less steep and crosses a stream, over a bridge. This is a good place to discover some little animals whose presence reveals the purity of the waters.
You will reach Montiberri through a steep-sided path between dry masonry walls: a great example of rural architecture and an ideal habitat full of hides for animals such as dormouses and lizards. The village of Montiberri is surrounded by fields in which, with a bit of luck, you will see some molehills or fox faeces.
After a very flat forest track, you will get to the other village of the valley: Casòs. This extraordinary viewpoint over the local Pyrenees and the whole region will allow you to observe the flight of large birds of prey such as common vultures, bearded vultures and golden eagles. On your way back, while crossing a wood of scotch pines, if you walk silently, you might take a shy roe deer by surprise or hear a squirrel nosing around.