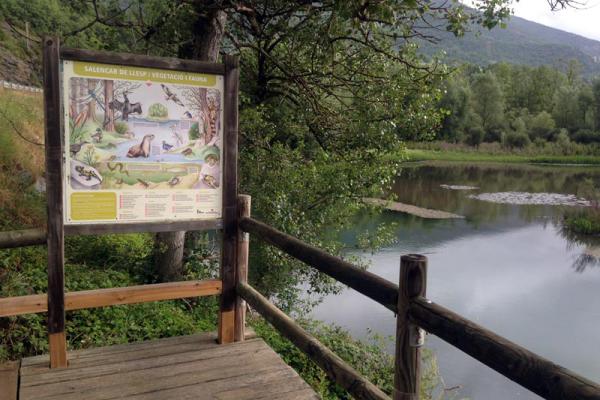 Willow area of Llesp
Departure: Junction to Llesp, on L-500 road
Arrival: Junction to Llesp, on L-500 road
Distance: 1.5 km
Duration: 1h00
Incline: 0 m
Degree of difficulty: Very easy
Type of route: Linear
Suitable for MTB: Yes
Best time of year: All year
Partly adapted to disabled and information panel in Braille
* Degree of difficulty obtained by SENDIF method
You can get to the Willow area of Llesp on foot from the villages located near Llesp, Pont de Suert, Castilló de Tor, Cóll, Pont de Saraís, Iran and Barruera or by car arriving directly to the junction of Llesp.
In this case, we suggest you to depart from the junction with L-500 road to Llesp and to follow the signs.
This 30-hectare humid area that belongs to the Xarxa Natura 2000 network hosts vegetal and animal communities that are typical of mountain humid areas. This area is especially important for its rarity and for being a stopover for migratory birds.
The characteristics of the land and the sediment retention have given rise to a rather extended willow area (habitat of community interest) whose main species are the following: white willow (Salix alba), bitter willow (Alix alaeagnos), purple willow (Salix purpurea) and grey willow (Salix atrocinerea catalaunica). These varieties of willows form a low river forest called "el salencar", hence the name of the site.
Enjoy the spot from the different viewpoints, high walkways and internal paths you will find along a river forest structured by extended areas of wetland vegetation and submerged herbs that create an enclave of high natural interest.
Bird and wildlife lovers will see different species typical of river habitats such as ducks, gallinules and kingfishers as well as viperine water snakes, varied amphibians and even otters. These varieties live together in an aquatic habitat that is carefully preserved by its luxuriant vegetation.
Note that some of the public spaces of the area are adapted to disabled and visually impaired (information panels in Braille).
The Willow area of Llesp is undoubtedly a place whose natural beauty and riches will catch the attention of any enthusiastic, sensitive and attentive visitor.