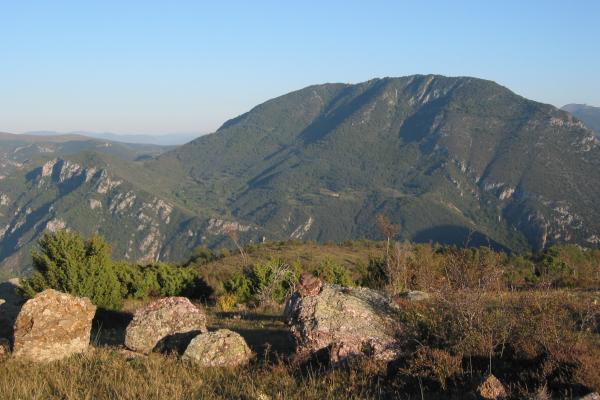 The Cap de la Faiada Trail
Departure: Montiberri
Arrival: Cap de la Faiada
Distance: 3.6 km
Duration: 2h 00
Incline: 554 m
Degree of difficulty: Demanding
Type of route: Linear
​Suitable for MTB: No
Best time of year: All year
* Degree of difficulty obtained by SENDIF method
The fountain of Montiberri, a village that has been abandoned for a long time, is the starting point of this forest route that will take you to the summit of this chalky giant. A cobbled path surrounded by dry masonry walls will take you uphill across a forest frequently visited by badgers and wood pigeons. This wood of scotch pines, fruit of the repopulations carried out in the mid-20th century, reaches the area of Espigolars.
As altitude increases through the shady area of Montiberri, the undergrowth gets more humid and the first beech trees start turning up here and there. With the arrival of cold, these grey and smooth robust trees lose their leaves and fruits, the delicious beechnuts, a basic nutrient for many animals that live in these mountain forests, like the roe deer, which colonized this wooded environment quite easily.
After crossing the firebreak that goes along the power line towards the communication antennas that are at Cap de la Faiada and after a long sinuous path, you will be able to enjoy the wonderful views from the Feixa Rasa viewpoint. Step by step, the forest starts clearing up and some chalky rocks begin to turn up and form small hills. You will then arrive to Llong, an extended meadow with natural enclosures for the livestock that were used in old times. Once on the top of the Faiada, you will be surprised by some metal antennas. And on the geodetic vertex, you will find an information panel that will help you to understand the surrounding landscape.