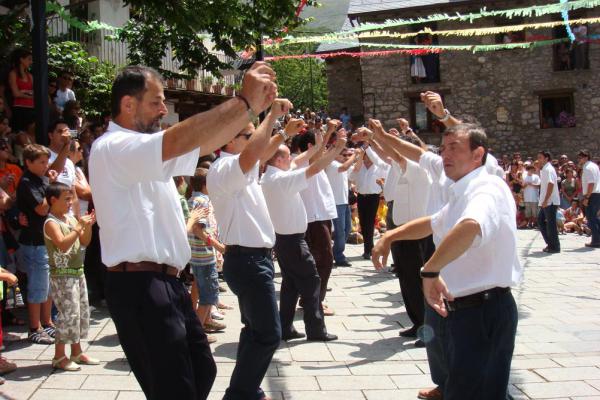 Folk dances
The following dances have been perpetuated throughout the centuries: "ball de bastons" (stick dance) in Malpàs, "flat" dance in Sant Isidre, "The pile" in Taüll; Tatero dance in Vilaller and "flat" dance in Durro.
Stick dance
The stick dance is held Sant Pere's local festival (29th June), in Malpàs, the only village in Alta Ribagorça that preserves this deep-rooted tradition exclusively performed by men.
"Flat" dance in Sant Isidre and The Pile
Taüll's local festival pays tribute to Sant Isdidre, its Patron Saint, on the third Sunday of July. The "flat" dance is danced together with Sant Isidre dance and followed by The Pile, a human tower exclusively made of men whose distinctive characteristic is that the man on top of the tower is upside down, with his feet in the air.
Tatero Dance
The Tatero Dance takes place 15th August during Vilaller's local festival. It is danced by four married and single couples who wear typical clothes and dance in the four corners of the square.
Flat dance in Durro
It is danced once a year during Durro's small festival (September) by two married and two single butlers.