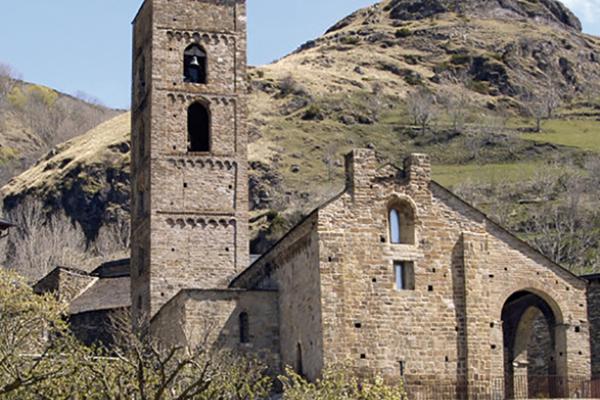 La Nativitat de Durro
Chronology:
12th century: First period of construction
16th – 17th centuries: Opening of two chapels on the lateral north wall
18th century: Remodelling of the chevet and the porch
1983: Restoration of the roof and removal of some chapels
1993: Restoration of the bell tower
2000/2002: Last restoration
Visits: This church is open to the public. Check opening hours and guided visits at the Centre of Romanesque art of Boí Valley.
This one-nave church hasn't preserved its original three-apse chevet.
Barrel vault ceiling. Square bell tower attached to the north wall. Chevet with Lombard and sawtooth arcades.
Frieze with checkers mouldings and arcades in the higher part of the south and north walls. A porch protects the gateway.
Sculptural decoration of the gateway with columns and capitals, archivault with checkers mouldings and christogram. Medieval wrought iron bolt.
Baroque altarpieces from 17th, 18th and 19th centuries