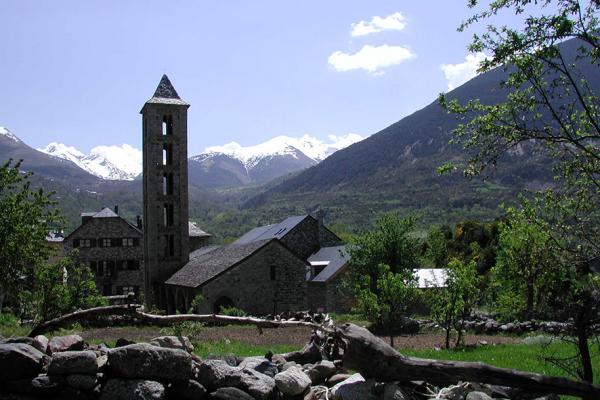 Santa Eulàlia d'Erill la Vall
Chronology:
11th century: First period of construction
12th century: Extension of the nave and construction of the bell tower and the porch
Accidental fall of the vault and facade. Reconstruction
Sixties: Restoration of the bell tower
1994/1997: Archaeological excavation and restoration
Visits: This church is open to the public. Check opening hours and guided visits at the Centre of Romanesque art of Boí Valley.
This church has a one nave and a chevet with a trefoiled semicircular apse.
The attached bell tower has six levels, geminate windows and sculptural decorations such as blind arcades and sawtooth friezes. The porch is decorated with arcades and pillars.
The temple hosts a copy of the Descent of Christus, composed of seven wooden sculptures.
The originals are preserved in the National Art Museum of Catalonia (MNAC), Barcelona, and in the Episcopal Museum of Vic (MEV).
The choir hosts a space aimed at permanent exhibitions that allows the visitors to know more about the history of the temple.