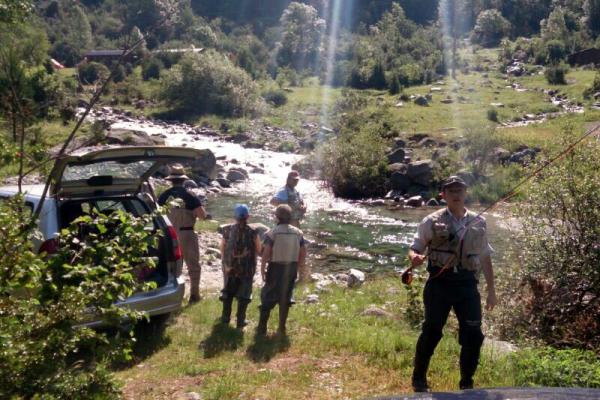 Fishing
Thanks to its variety of sceneries and species, Alta Ribagorça is an exceptional destination for nature and sport fishing lovers.
Alta Ribagorça region has two rivers: Noguera Ribagorçana and Noguera de Tor, which both host free sections and reserves. You will find catch-and-release reserves –for the recreational fishing lovers–, traditional reserves –for the fishers who want to enjoy some delicious trouts–, and intensive reserves with bred species –for beginners and veterans– which are more accessible, along the river bank. The most valued species is the native trout, which can be found in different sizes and characters. The wide range of habitats and varieties allow the practice of different techniques: fly fishing, spinning or short rod, natural baits or long rod, from a boat or from the bank.
Individual and group fishing courses in all the region. Beginners, fly fishing and fishing day.
Association of sportive fishing of the Valley of Boí
Ctra.de Durro, 5 - 25527 Barruera. Tel. 609 327 029
pesca@pescavallboi.com
www.facebook.com/pescavallboi

Society of Sportive Fishermen Alta Ribagorça
Av.Victoriano Muñoz, 25, 1r. - 25520 El Pont de Suert
spearps@hotmail.com
tel. 630470600
School of Fishing of the Valley of Boí
Tel. 662 331 523 – rgdavilaes@yahoo.es
Course of individual and collective fishing to all the comarca. Initiation, fishing with fly and day of fishing.