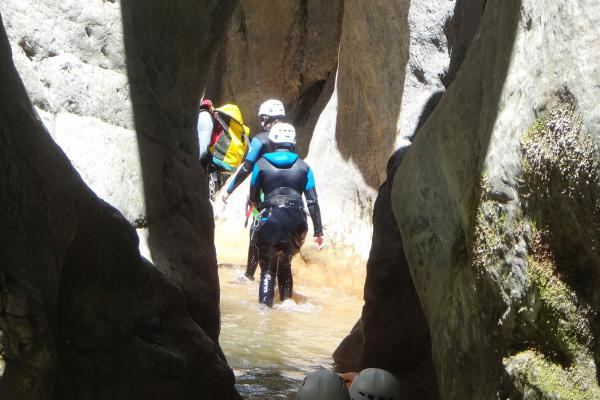 Canyoning
Ribagorça canyons. In the springtime and the major part of the summertime, high mountain thaw feeds into torrents, canyons and ravines, turning the Ribagorça region into a fantastic combination of sceneries and water. Canyoning in this area of the Pyrenees means pleasant water rides as well as vertiginous chutes, jumps and abseils. The two most exciting canyons are Viu de Llevata and Erta.
Canyoning is a sport activity that consists in progressing along a river that has been dug into the rock using different techniques (progression, jumps, chutes, natural toboggans, abseils, handrails, …) that will make your descent unforgettable.
Alta Ribagorça hosts a series of canyons with different levels and degrees of difficulty. One of the most popular is Viu de Llevata, operated by companies from all over the Pyrenees. Its crystal-clear waters and chalky rock represent a fantastic scenery. The other equipped canyons in the region are Erta, Durro and Sallent.
Canyoning is an ideal activity to do with the family. From 7 upwards, the local specialised companies will provide you a safe descent, efficient instructions and all the material you need for a perfect experience.