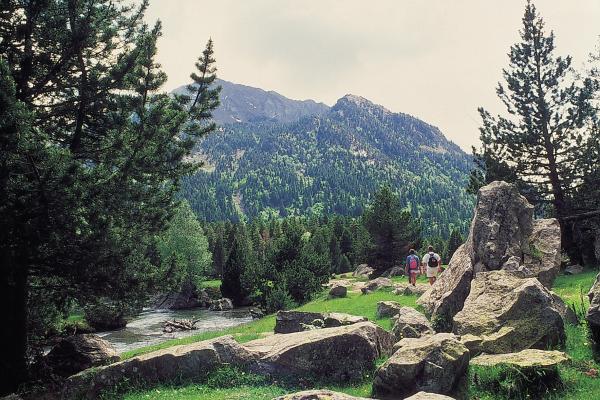 Founded 21st October 1955, Aigüestortes i Estany de Sant Maurici National Park is one of the natural sites that belong to the Spanish National Parks Network and the only National Park in Catalonia. For further information about Aigüestortes National Park and its activities, go to the House of the Park in Boí or to the Information Centre in Senet.
Its almost 40.000 hectares host representatives of all the characteristic elements of high mountain environments. 14.119 hectares strictly belong to the National Park, which is divided in two sectors: Aigüestortes, in Alta Ribagorça, accessible from Boí Valley; and Sant Maurici in Pallars Sobirà, whose entrance is in Espot Valley.
Suggested itineraries from Boí Valley to Barravés Valley
The Park provides specific brochures about each sector with different suggested itineraries (some are self-guided) you can get at the Information centres of the region. There are also some panoramic viewpoints in several spots of the Park.
Stages of the "Living paths" hike. The trip around the Park
The peripheral itinerary around the Park links three historical passes such as Vielha, Bonaigua and Rus: a millenary nexus between the villages and valleys that surround the National Park.
Breaking barriers. In the area of Boí and Senet, the Park has 3 routes for disabled. Wooden walkways with protections and soft slope, special parking spaces, … are some of the facilities that allow that profile of visitors, both individually or collectively, to enjoy the landscape of the Park despite their limitations.
People with visual impairment can also be provided with tactile material they can use during their route through the central area of the Park in order to get their bearings more easily. They will also find some interpretation panels in Braille. Disabled visitors are accompanied with specialised guides all year round.
The Park also offers the opportunity to go snowshoeing and discovering the secret places and winter landscapes of the Park in an enjoyable way.